Great value diaper cover set of 3. Great for buying.
Regular price
Sale price
¥8,800
Unit price
per
Sale
Sold out
A one-size-fits-all cloth diaper cover that can be adjusted with snaps. A set of 3 that is recommended as an additional purchase.
The diaper cover was created by researching the characteristics of babies, and has a double layered structure around the thighs and a gathered structure around the waist to prevent leakage, making it lightweight and easy to dry so your baby can move around easily.
RinennaBaby's cloth diaper cover has many snaps that allow you to adjust the size to fit your waist and thighs. One-size-fits-all cloth diapers that can be used all the time, from newborns to new diapers, without the need to replace them.
If you would like to try washing with Rinenna #1, which allows you to wash poop stains by just soaking it in, you can also get an optional set that includes two Rinenna #1 trial bags and a soaking bucket with a lid.
View full details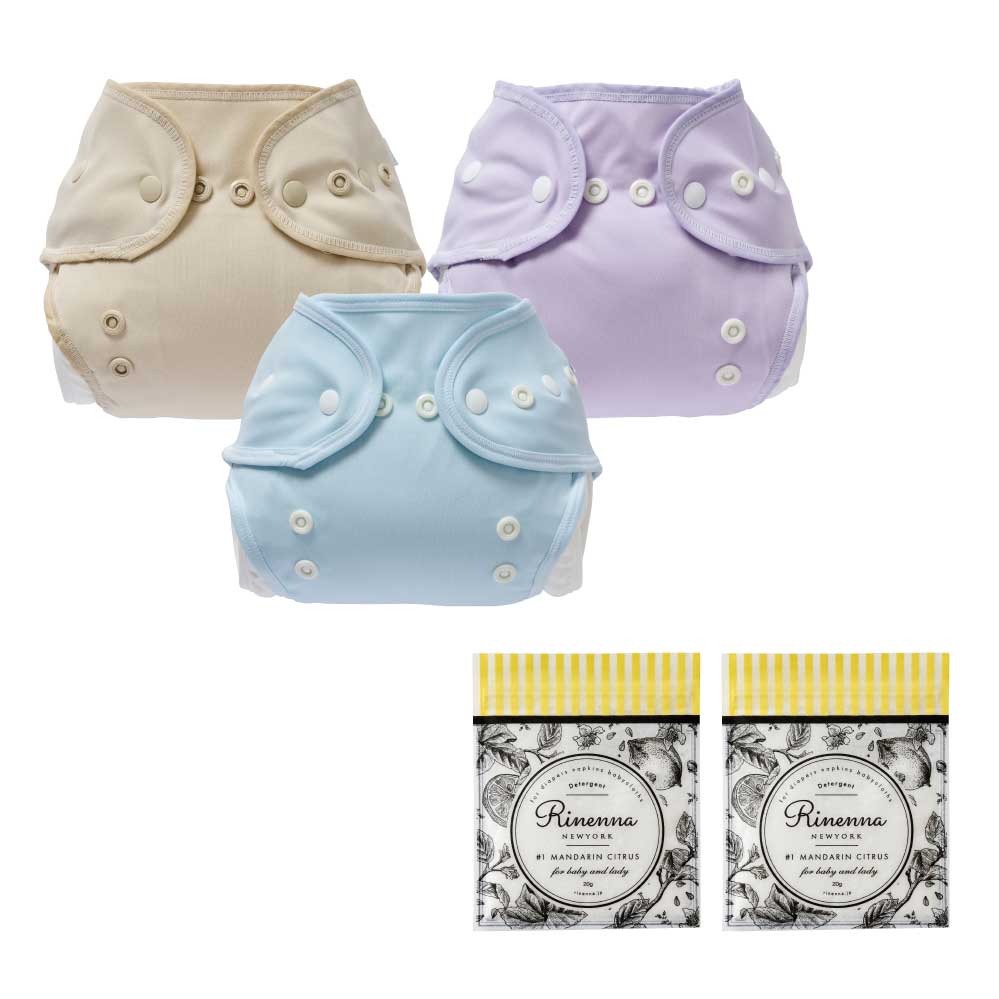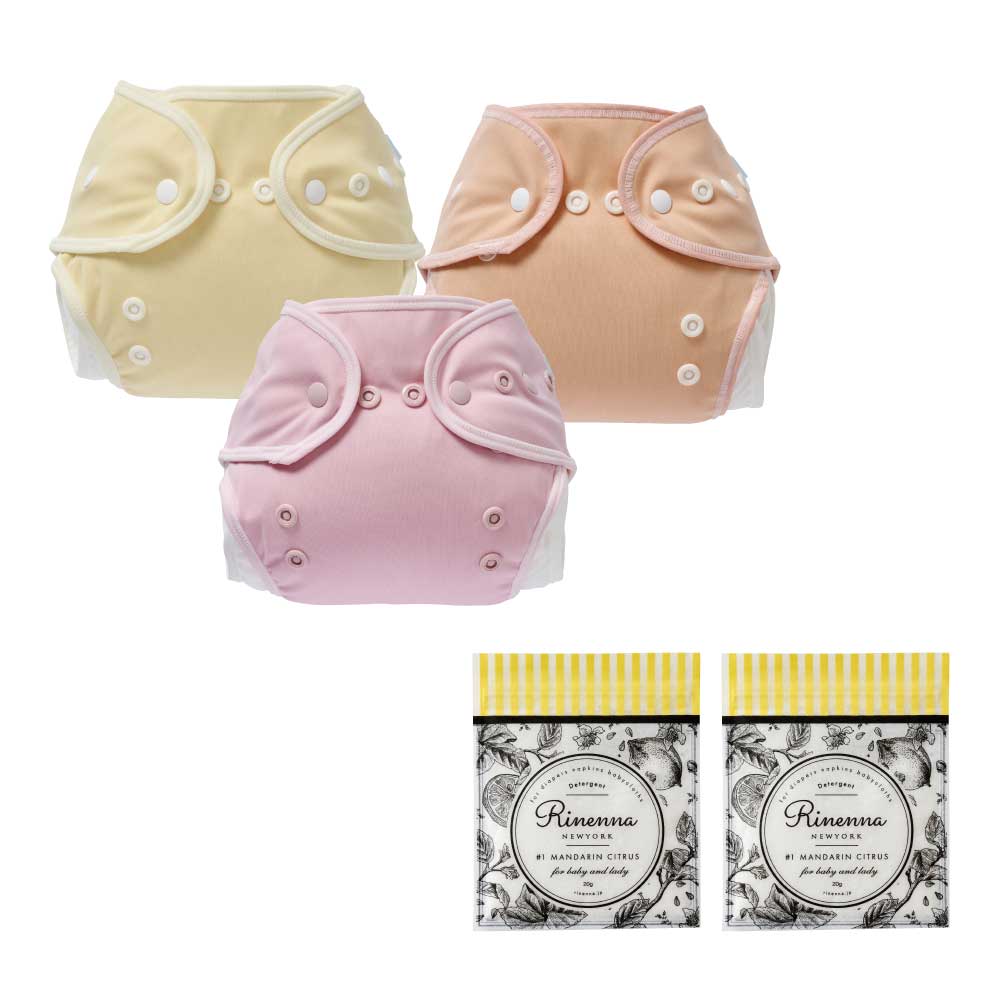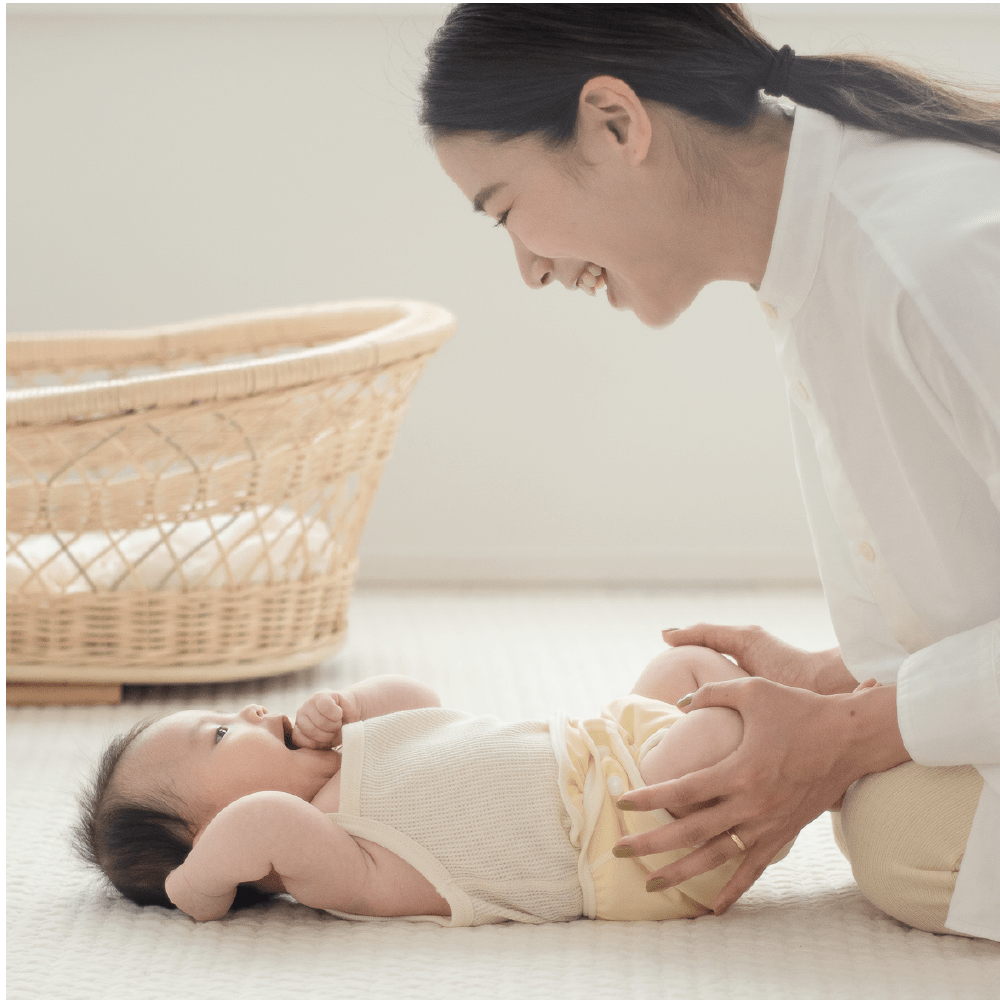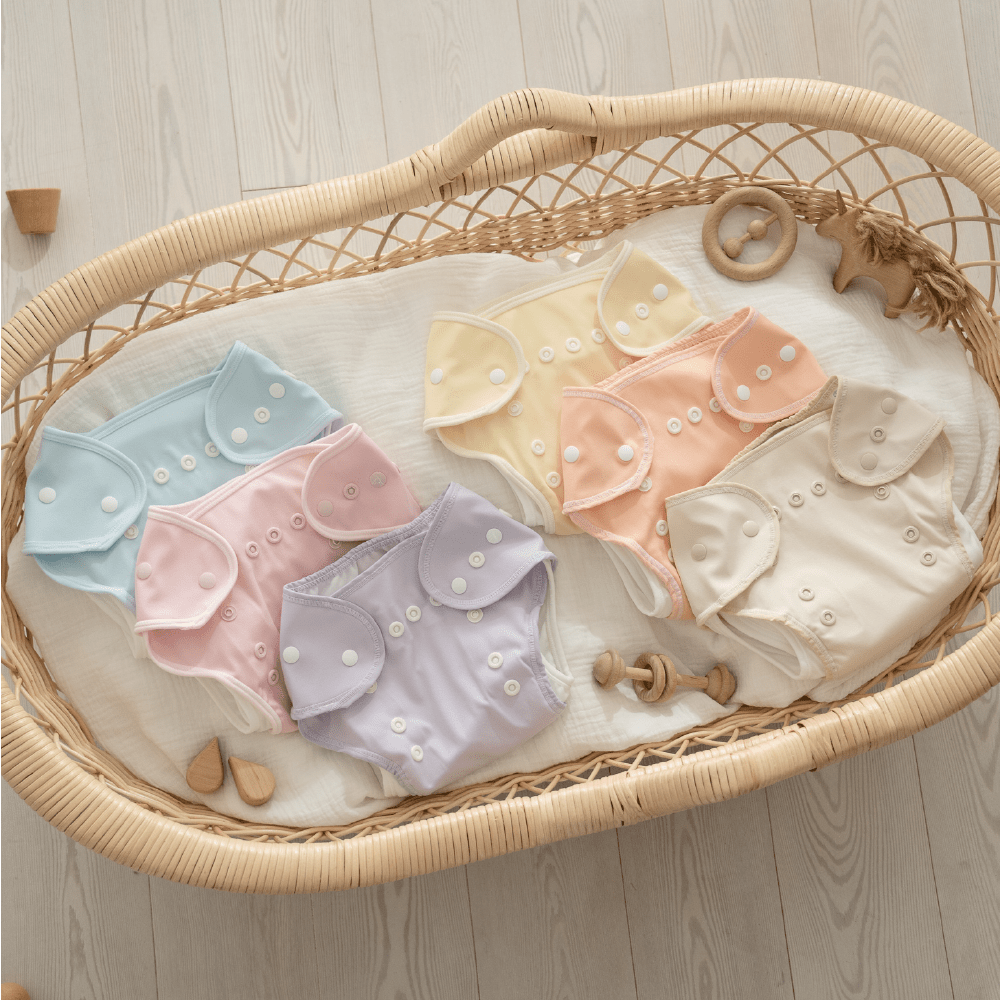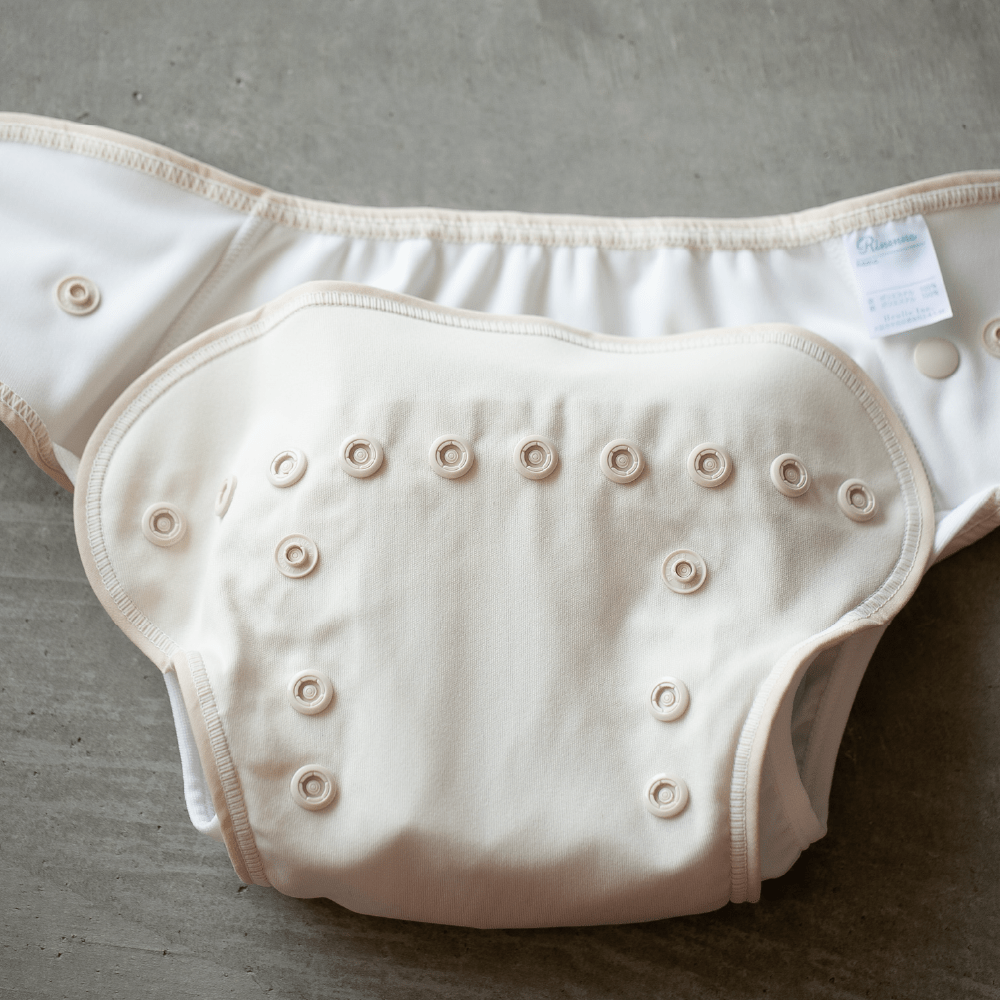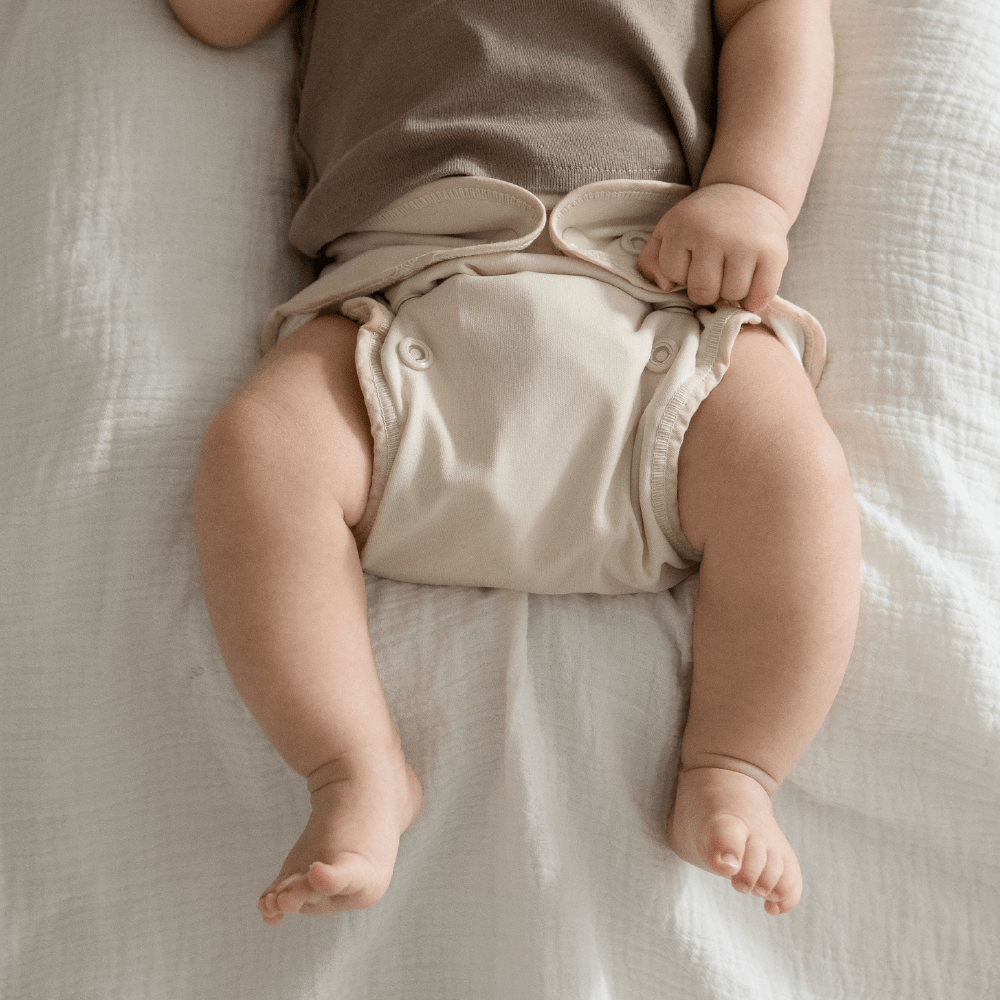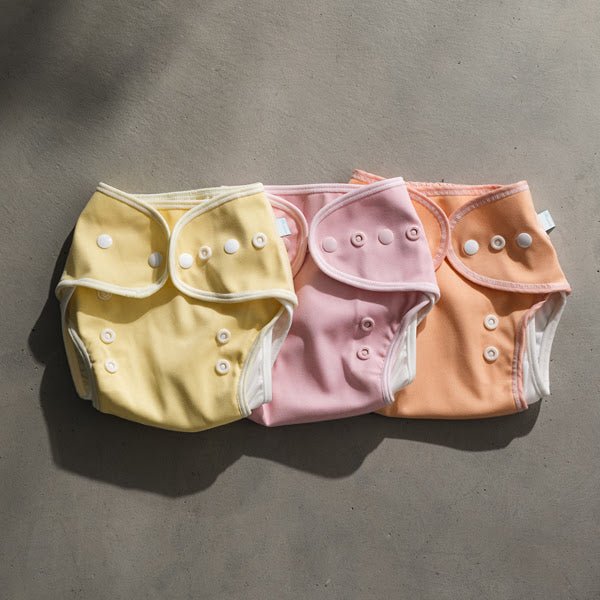 free size diaper cover
Diaper covers are necessary for both molded diapers and ring diapers. You can adjust the size with snap buttons around both the waist and thighs, so you can use one size until you graduate from diapers.

It's the perfect size for babies of any body type, allowing them to have a comfortable cloth diaper life.
Cloth diaper inners to choose from
RinennaBaby offers both molded and ring diapers. Designed to perfectly fit Rinenna diaper covers to prevent leakage.
The diaper inner is also one size fits all and can be used from newborns to diapers.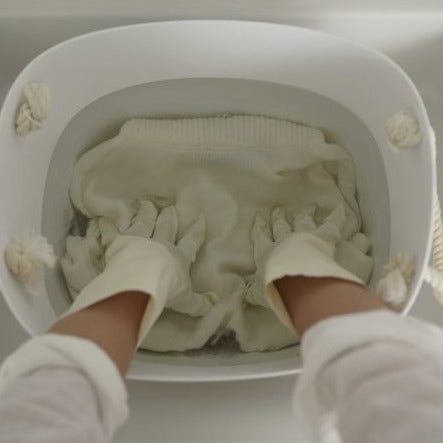 Stay comfortable with Rinenna laundry detergent
Using Rinenna laundry detergent, which was developed to "wash cloth diapers cleanly," you can greatly reduce the burden of washing cloth diapers.
In order to avoid cloth diapers becoming a burden for those raising children, diapers can be used to remove urine and poop stains without having to massage them.
追加購入♪
デザインがとても可愛く気に入ったので、追加購入でこちらを選びました。3枚セットで単品購入より少しお安く購入出来るのは嬉しいのですが、カラーを1枚ずつ選択出来たらもっと良いなぁと思います。
いつもRinennaをご愛顧くださり、誠にありがとうございます。
商品をお気に召してくださり、大変嬉しく存じます。
また、貴重なご意見をいただき、ありがとうございます。
いただきましたご意見を今後の参考にさせていただき、
これからもお客様にご満足いただけるような商品ラインナップの改善に努めてまいりたいと存じます。
今後ともRinennaをご愛顧いただけましたら幸いでございます。
どうぞよろしくお願い申し上げます。
長く使えるのがいい
ボタンでサイズ変更可能で、長く使えるのが便利で買い足しました。
いつもRinennaをご愛顧くださり、誠にありがとうございます。
商品お気に召していただけたようで、大変光栄に存じます。
布おむつカバーのサイズ調整につきましては、特に新生児の間は布おむつカバーからはみ出る部分は折りたたんでお使いいただき、お子様のご成長に合わせてスナップで調整いただきながら、背中に指1本分が入るか入らないかを目安にご使用いただければと存じます。
ご使用になる中でご不明な点などございましたら、いつでもご連絡くださいませ。
今後ともRinennaをご愛顧いただけますよう、どうぞよろしくお願い申し上げます。
おむつカバーは買い足しです
1枚だけお試しに買ったカバーがかわいくて、買い足しました。
普段は紙おむつを使っているのですが、可愛くなくて....
ロンパースはおむつ替えが面倒だし...でカバーを愛用しています。
こちらのカバーをつけていると、男の子でも見えても、かわいいし気に入っています。
カバー自体の汚れることもあるし、うんち漏れなどの洗濯用に、洗剤も買いました。
お洗濯が楽になるといいなー。
いつもRinennaをご愛顧くださり、誠にありがとうございます。
商品お気に召していただけたようで、大変光栄に存じます。
弊社の布おむつは、新生児からおむつはずれの年齢まで、赤ちゃんの身体を研究し、オリジナルデザインで仕上げました。
成型おむつとおむつカバーは、新生児~成長した赤ちゃん(3キロ~16キロ目安)までサイズ交換の必要なくワンサイズでお使いいただけますので、おむつ外れされるまで長くご使用いただけましたら幸いでございます。
ご使用になる中でご不明な点などございましたら、いつでもご連絡くださいませ。
今後ともRinennaをご愛顧いただけますよう、どうぞよろしくお願い申し上げます。
Collapsible content
Product contents

3 diaper covers
Options Rinenna#1 Trial Pack 20g x 2 bags
Options Omniutti bucket L size 1
Cloth diaper product information

■Cloth diaper cover
・Material Cloth diaper cover: Polyester
・Size: Free size (3kg to 16kg) The size around the waist and thighs can be adjusted according to growth (thigh circumference 13.5cm to 22cm)
・Country of manufacture: Japan
Precautions for using cloth diapers

■Cloth diaper cover Precautions for use
・Please be sure to wash with fresh water before use.
-Please refrain from using detergents containing fluorescent agents as it is a non-fluorescent material.
・If it does not suit your skin, please stop using it.
・Please refrain from using the dryer. The waterproof function will easily deteriorate and the snap buttons will easily come off.
・Please refrain from soaking the product as it will weaken the waterproofing.
・Please refrain from using fabric softener as it will affect the absorbency.
Detergent product information

■Laundry detergent Rinenna#1 Mandarin Citrus Product information
・Manufacturer Japan
・Product name Synthetic detergent for laundry
・Applications: cotton, linen, synthetic fibers
・Liquid: Weakly alkaline
·component
Surfactant (19% polyoxyalkylene alkyl ether, sodium alphoolefin sulfonate, sodium linear alkylbenzene sulfonate), phosphate, silicate, bleach (oxygen-based), anti-refouling agent, enzyme, bleach activation agents, fragrances
・Standard usage amount: 30g for 30L of water
・Estimated usage amount
...Soak: 20g (2 spoons) in 2L of 40℃ hot water (approximately 50 servings with this product)
...Washing machine: 1 spoonful in 30L of water (approximately 33 times with this product)
Detergent precautions

■Laundry detergent Rinenna #1 Mandarin Citrus Precautions for use
・Please wash according to the washing instructions on the clothing.
・Can also be used for baby clothes.
- Be careful of infants and young children playing with soap bubbles and mischief, and keep out of reach of children.
・If you are prone to rough skin or will be using the product for a long time, please use cooking gloves when washing with detergent applied to the brush.
After use, we recommend washing your hands thoroughly with water and using cream etc.
・If swallowed, please take measures such as giving water to drink.
・This product contains bleach (oxygen-based).
・Stains caused by chemicals such as dyes will not come off.
・Cannot be used on silk fabrics. Also, due to the characteristics of the material, wool may shrink if soaked, so please be careful when using it.
・If you leave it on for more than 24 hours, there is a risk of damaging the fabric or re-contaminating it. (We recommend leaving it on for 12 hours or less.)
・For items such as denim that have not been dyed properly into the fibers (clothing with low fastness), there is a risk that the color will fade if left soaked. For clothing that is concerned about color fading, be sure to apply detergent solution to an inconspicuous area before soaking, leave it on for about 5 minutes, and do not use on clothing that will discolor or fade.
・Please note that if you soak clothes that have previously been washed with bleach, the dye may peel off from the damaged fibers and the color may fade.
・Do not use for purposes other than those listed above.
Bucket product information

■sceltevie omniutti bucket
・Material
...Main body, lid, handle: Polypropylene
...Ring: Polyethylene
・Manufacturer Japan
·size
...mini: W210×D224×H175mm
...S: W271×D254×H211mm
...L: W282×D267×H265mm
·weight
...mini: 465g
...S: 730g
...L: 825g
·capacity
...mini: 4 liters
...S: 8 liters
...L: 10 liters
・Load capacity: 150kg tested (however, the entire lid is loaded)
・Heat-resistant temperature 120℃

■Omniutti bucket is recommended for soaking and washing
The Omniutti bucket is recommended for soaking and washing.
The lid prevents odors from leaking out, so you don't have to worry about unpleasant odors when washing cloth napkins or cloth diapers.
The handle has a hole for the hose to pass through, so you don't have to worry about the hose coming off when filling up with water. Water can be easily collected even if you take your hands off.
■L is the recommended size for clothes such as T-shirts! S size cloth napkins are enough for one day.
[mini size: height 17.5cm, capacity 4 liters W210 x D224 x H175mm]
If you want to soak and wash, cloth napkins are suitable for light daily use (for vaginal discharge) or small clothes. It is also a popular size for children. It's small and light, so it's easy for children to carry, and it's also recommended as a toy container or as a plaything for playing house.
[S size: Height 21.1cm, capacity 8 liters W271 x D254 x H211mm]
Very convenient for washing cloth napkins, socks, etc. The cloth napkins are the perfect size to put on a day's worth.
The compact size makes it easy to place in a small space in your room, so it is recommended to use it as a small accessory case in your living room, which tends to be cluttered.
[L size: height 26.5cm, capacity 10 liters W282 x D267 x H265mm]
Recommended for soaking and washing clothes such as Y-shirts and T-shirts, and cloth diapers. It's the perfect size to use as a bucket for storing clothes, etc.