No cleaning required if you have this! ? home cleaning set
A high-quality fabric softener that improves the damage caused by fibers in clothing is now available as a set with popular detergents.
A set created from Rinenna customer feedback that includes a clothing conditioner and a fashionable laundry detergent that precisely removes makeup stains and oil stains.
With professional stylish clothes detergent #ZERO and No. 9, you can get your favorite clothes to the finish of a dry cleaner at home.
Regular price
Sale price
¥4,900
Unit price
per
Sale
Sold out
View full details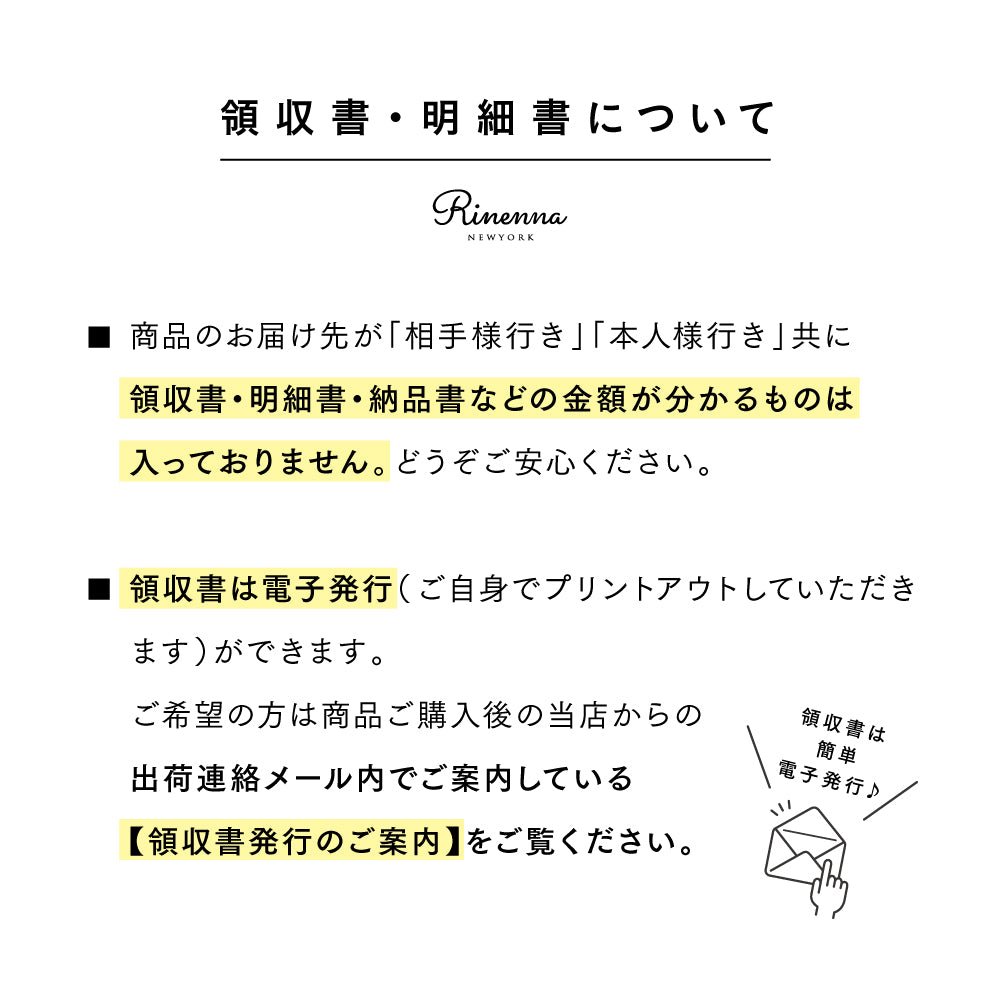 おうちクリーニング♪
いつも「Rinenna#1」と「Rinenna#2」を、その日の気分によって使い分けてます。「#ZERO」もちょうど無くなりかけていたので、今回はこちらのセットを購入しました。普段は香りのある市販の柔軟剤を使っているのですが、こちらの柔軟剤は洗い上がりがまるで違いました!シワが無く、生地も柔らかくなった感じがします。これからはオシャレ着にはこちらの柔軟剤を使いたいと思います。
いつもRinennaをご愛顧くださり、誠にありがとうございます。
商品をお気に召してくださり、大変光栄でございます。
お喜びいただく事が出来、私どもと致しましても嬉しい限りでございます。
ぜひ色々とお試しいただき、お洗濯にお役立ていただけますと幸いでございます。
今後ともRinennaをどうぞよろしくお願い申し上げます。
クリーニング行かなくていいかも
以前ZEROを使っていて、今回なくなって柔軟剤付きのものを購入。2つとも仕上がりに大満足。クリーニングは特別な時にしか行かなくなりそうです。
いつもRinennaをご愛顧くださり、誠にありがとうございます。
商品お気に召していただけたようで、大変光栄に存じます。
「RINENNA Pro 0 #ZERO」は、油性汚れのシミ抜きに特化したおしゃれ着洗剤となっており、色柄物やデリケート衣類にもお使いいただけます。
また、手洗いとしてお使いいただく事も可能でございますので、ぜひ色々とお試しいただき、お洗濯にお役立ていただけますと幸いでございます。
今後ともRinennaをどうぞよろしくお願い申し上げます。
試してみたかったので....
ずっと1の洗剤を使っているので、
他の商品も試してみたくて、こちらを購入しました。
LINEでもらったクーポンも使えたので、少しお安くなってよかったです。
高級なお値段なので、厳選して使いたいと思います。
いつもRinennaをご愛顧くださり、誠にありがとうございます。
商品はお気に召していただけましたでしょうか。
これからもお洗濯にお役立ていただけますと幸いでございます。
ご使用になる中でご不明な点などございましたら、いつでもご連絡くださいませ。
今後ともRinennaをどうぞよろしくお願い申し上げます。
お気に入りの服のお手入れに
友人からプレゼントでリネンナを頂いてからずっとリネンナ1を愛用していました。
柔軟剤もあったらいいのになぁーと思っていたら、やっと発売されると聞いて即購入しました!ずっとクリーニングに出していたお気に入りのワンピースが自宅で簡単に洗えるようになったので本当にうれしいです。
いつもRinennaをご愛顧くださり、誠にありがとうございます。
お喜びいただく事が出来、私どもと致しましても嬉しい限りでございます。
ぜひ色々とお試しいただき、お洗濯にお役立ていただけますと幸いでございます。
今後ともRinennaをご愛顧いただけましたら幸いでございます。
どうぞよろしくお願い申し上げます。
お試しで購入、良い感じ!
インスタで日焼け止めの汚れを落とせると見て、試しに購入してみました。
セールの時にお得に変えたので良かったです!
ゼロは思ったより使いやすく、つけ置きの時間がいらないので楽です。
柔軟剤は、洗濯機から出した時から滑らかな触り心地でした。
おしゃれ着を洗うときに、2つとも使ってみたいです。
この度はRinennaの商品をご購入いただき、誠にありがとうございます。
商品お気に召していただけたようで、大変光栄に存じます。
「RINENNA Pro 0 #ZERO」は油性汚れにフォーカスしたシミ抜き剤となっており、色柄物やデリケート衣類にもお使いいただけます。
また、手洗いとしてお使いいただく事も可能でございますので、ぜひ色々とお試しいただき、お洗濯にお役立ていただけますと幸いでございます。
今後ともRinennaをご愛顧いただけましたら幸いでございます。
どうぞよろしくお願い申し上げます。
Collapsible content
Product contents

Rinenna No.9 fabric conditioner 600ml 1 bottle
Options RINENNAPro #ZERO 30g 1 bottle
Product information

■RINENNA Pro 0 #ZERO product information
・Manufacturer Japan
・Product name: Partial detergent
・Applications: For cotton, linen, and synthetic fibers
・Liquid neutral
·component
Surfactant (80%: polyoxyalkylene alkyl ether), propylene glycol (stabilizer), water

■Rinenna No.9 FABRIC CONDITIONER Product Information
・Manufacturer Japan
・Applications: Agents for washable clothing (cotton, wool, chemical fibers, etc.), fragrances
·component
Cationic surfactants, nonionic surfactants, texture improvers, stabilizers
・Standard usage amount: 30g for 30L of water
・Estimated usage amount
...[how to use]
For fully automatic washing machines: Put this product into the automatic fabric softener slot and wash.
For dual-tub washing machines or hand washing: When the rinse water is clean, add this product and run for 3 minutes, or soak and then spin dry.
...Estimated amount used]
10ml to 20ml for 10L of water
Please use the scale on the cap as a guide to calculate the amount of water used when washing.
*For drum-type washing machines, please refer to the table above as a guide for the amount of laundry to be washed.
*Please adjust the amount according to your preference.
If you reduce the amount of water and increase the amount of this product, you will get a smooth and smooth finish.
Precautions for use

<Precautions when using RINENNA Pro #ZERO>
Since this is a concentrated detergent, please be sure to rinse it at least 3 times before use.
When applying, use the included dropper and wear rubber gloves.

■RINENNA Pro 0 #ZERO precautions for use
・Be sure to use the included dropper as the active ingredients are highly concentrated.
・Be sure to rinse at least 3 times when washing by hand or using a washing machine.
・Before use, please read the instruction manual carefully and follow the dosage, storage method, and use the product correctly.
・Please wash according to the washing instructions on the clothing.
- Be careful not to let people with dementia get it in their eyes or mouth, and keep it out of reach of children.
・This product is not a cosmetic product.
- After use, be sure to rinse the included dropper thoroughly with water before storing.
・When using, be sure to wear cooking gloves. Wash cooking gloves thoroughly after use, and if they get on your skin, rinse thoroughly with running water.
・If swallowed, rinse your mouth with tap water and consult a doctor.
・If it gets into your eyes, do not rub it, rinse it with running water for at least 15 minutes, and consult a doctor.
- If detergent gets on the label, wipe it off thoroughly as it may cause damage if left unattended. (Wear cooking gloves when wiping, and if you use a towel, wash or wash it immediately.)
・Can also be used for baby clothes.
- Will not remove nail polish, pigments, dyes, rust, or fading of the fiber itself.
・It can be used on delicate clothing such as silk and wool, but please be sure to test it on an inconspicuous area before use, as the cleaning ingredients may cause the fibers to lose their texture.
・It can be used on colored patterned clothing and denim, but there is a risk that the color will fade if the dye has not penetrated properly into the fiber itself (clothing with low fastness). Please be sure to test it in an inconspicuous area before use.
・When using, place a folded towel under the dirty area to prevent stains from transferring.
- Please note that if the fabric overlaps the back or surface of the area where detergent has been applied, stains may transfer.
・If you leave it for more than 10 minutes after applying detergent, the fabric may be damaged.
・Dirty removal varies depending on the degree of dirt.
・Not all dirt will be removed.
・Do not use for purposes other than those listed above.

■Rinenna No.9 FABRIC CONDITIONER Precautions for use
・Please do not use it for any purpose other than its intended purpose.
・Please keep it out of reach of children and people with dementia.
・Avoid high temperatures and low noise, and store in a place out of direct sunlight.
・Do not let the undiluted solution come into direct contact with clothing.
・When using the automatic fabric softener dispenser, please follow the instruction manual for the washing machine.
*Due to its properties, the liquid may separate. There is no problem with the quality, so please shake well before use.
*Continuing to use the washing machine's automatic loader may cause a clog. Clean the tank and routes regularly.
*For the love of using this product, please refrain from drying it in a room where an oil fan heater is used.
[first aid]
・If it gets into your eyes, do not rub it, but immediately rinse it with running water for at least 15 minutes.
・If swallowed, do not vomit; immediately rinse your mouth and drink water.
・If any abnormality remains in either case, please bring this product and consult a medical institution.