A one-size-fits-all, easy-to-use cloth diaper cover for everything from newborns to new diapers.
Regular price
Sale price
¥3,000
Unit price
per
Sale
Sold out
A one-size-fits-all cloth diaper cover that can be adjusted with snaps. You can use not only RinennaBaby cloth diapers but also cloth diapers from other companies.
The diaper cover was created by researching the characteristics of babies, and has a double layered structure around the thighs and a gathered structure around the waist to prevent leakage, making it lightweight and easy to dry so your baby can move around easily.
RinennaBaby's cloth diaper cover has many snaps that allow you to adjust the size to fit your waist and thighs. One-size-fits-all cloth diapers that can be used all the time, from newborns to new diapers, without the need to replace them.
If you would like to try Rinenna #1 and soaking laundry together, you can also get a set of 2 Rinenna #1 trial bags and a bucket as an option.
View full details
free size diaper cover
Diaper covers are necessary for both molded diapers and ring diapers. You can adjust the size with snap buttons around both the waist and thighs, so you can use one size until you graduate from diapers.

It's the perfect size for babies of any body type, allowing them to have a comfortable cloth diaper life.
Cloth diaper inners to choose from
RinennaBaby offers both molded and ring diapers. Designed to perfectly fit Rinenna diaper covers to prevent leakage.
The diaper inner is also one size fits all and can be used from newborns to diapers.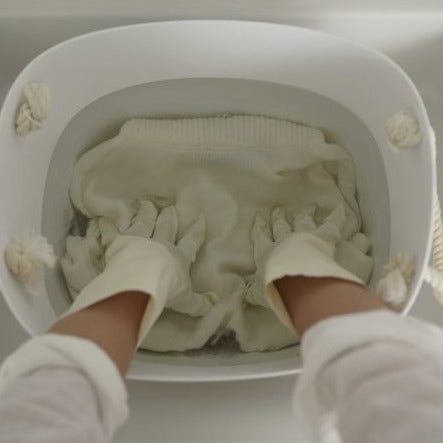 Stay comfortable with Rinenna laundry detergent
Using Rinenna laundry detergent, which was developed to "wash cloth diapers cleanly," you can greatly reduce the burden of washing cloth diapers.
In order to avoid cloth diapers becoming a burden for those raising children, diapers can be used to remove urine and poop stains without having to massage them.
色味が可愛い!
ずっと布おむつカバーを探していたのですが、なかなか気に入った物が見つからず、ついに出会いました!優しい色味のパステルカラーがとても可愛いです!また買い足そうと思います♪
この度はRinennaの商品をご購入いただき、誠にありがとうございます。
商品お気に召していただけたようで、大変光栄に存じます。
ぜひ布おむつ育児をお楽しみいただければと存じます。
今後ともRinennaをご愛顧いただけましたら幸いでございます。
お客様のまたのご利用を、スタッフ一同心よりお待ち申し上げております。
写真用に
100日の写真用に購入しました。カラーもかわいく大満足です。
このたびは弊社の商品をご購入いただきまして、誠にありがとうございます。
商品お気に召していただけたようで、大変光栄に存じます。
弊社の布おむつは日本製であり、赤ちゃんの肌を優しく包み込むプレミアムコットンの成型タイプとなっておりますため、よろしければ引き続きご使用いただけましたら幸いでございます。
今後ともRinennaをご愛顧いただけますよう、どうぞよろしくお願い申し上げます。
女の子のオムツ見え防止に
姪っ子にプレゼントしました。
紙オムツがスカートから見えちゃうので、
スパッツを履いていたのですが、
こちらであれば見えても可愛いかなと!
服装の幅がひろがると、喜んでもらえました。
このたびは弊社の商品を大切なギフトへとお選びくださり、誠にありがとうございます。
プレゼントされた姪御様にもお喜びいただけたとの事、大変嬉しく存じます。
これからもご愛顧いただけましたら幸いでございます。
今後ともRinennaをどうぞよろしくお願い申し上げます。
Collapsible content
Cloth diaper product information

■Cloth diaper cover
・Material Cloth diaper cover: Polyester
・Size: Free size (3kg to 16kg) The size around the waist and thighs can be adjusted according to growth (thigh circumference 13.5cm to 22cm)
・Country of manufacture: Japan
Precautions for using cloth diapers

■Cloth diaper cover Precautions for use
・Please be sure to wash with fresh water before use.
-Please refrain from using detergents containing fluorescent agents as it is a non-fluorescent material.
・If it does not suit your skin, please stop using it.
・Please refrain from using the dryer. The waterproof function will easily deteriorate and the snap buttons will easily come off.
・Please refrain from soaking the product as it will weaken the waterproofing.
・Please refrain from using fabric softener as it will affect the absorbency.
Detergent product information

■Laundry detergent Rinenna#1 Mandarin Citrus Product Information
・Manufacturer Japan
・Product name Synthetic detergent for laundry
・Applications: cotton, linen, synthetic fibers
・Liquid: Weakly alkaline
·component
Surfactant (19% polyoxyalkylene alkyl ether, sodium alphoolefin sulfonate, sodium linear alkylbenzene sulfonate), phosphate, silicate, bleach (oxygen-based), anti-refouling agent, enzyme, bleach activation agents, fragrances
・Standard usage amount: 30g for 30L of water
・Estimated usage amount
...Soak: 20g (2 spoons) in 2L of 40℃ hot water (approximately 50 servings with this product)
...Washing machine: 1 spoonful in 30L of water (approximately 33 times with this product)
Detergent precautions

■Laundry detergent Rinenna #1 Mandarin Citrus Precautions for use
・Please wash according to the washing instructions on the clothing.
・Can also be used for baby clothes.
- Be careful of infants and young children playing with soap bubbles and mischief, and keep out of reach of children.
・If you are prone to rough skin or will be using the product for a long time, please use cooking gloves when washing with detergent applied to the brush.
After use, we recommend washing your hands thoroughly with water and using cream etc.
・If swallowed, please take measures such as giving water to drink.
・This product contains bleach (oxygen-based).
・Stains caused by chemicals such as dyes will not come off.
・Cannot be used on silk fabrics. Also, due to the characteristics of the material, wool may shrink if soaked, so please be careful when using it.
・If you leave it on for more than 24 hours, there is a risk of damaging the fabric or re-contaminating it. (We recommend leaving it on for 12 hours or less.)
・For items such as denim that have not been dyed properly into the fibers (clothing with low fastness), there is a risk that the color will fade if left soaked. For clothing that is concerned about color fading, be sure to apply detergent solution to an inconspicuous area before soaking, leave it on for about 5 minutes, and do not use on clothing that will discolor or fade.
・Please note that if you soak clothes that have previously been washed with bleach, the dye may peel off from the damaged fibers and the color may fade.
・Do not use for purposes other than those listed above.
Bucket product information