Drum type, vertical type, two tank type all OK! For those who want to try Rinenna #1, a bathtub beauty with hot water.
Washing tub cleaner developed by Rinenna!
The cause of the odor may be the washing tub.
Comes with a trial pack that also includes Rinenna #1.
Many people come to Linenna's laundry detergent due to a variety of problems, such as ``stains not coming off'' and ``washed laundry smells unpleasant'' during daily laundry.
When people with such problems use Linenna detergent, they sometimes end up with black seaweed-like stains on their laundry. In fact, it was black mold that was clinging to the back of the washing tub and had fallen off.
Even if there is no odor or seaweed stains yet, washing machines are prone to mold.
We have developed a laundry tub cleaner to remove all the dirt from your washing machine.
Linenna's laundry tank cleaner can be used with hot water of about 40℃ .
The troublesome cleaning of the washing tank, which normally takes 7 to 8 hours, can be reduced to 2 to 3 hours .
The cleaning effect is improved even with water as warm as bath water, instead of boiling water.
It is safe even for families with children.
■If you are using a washing machine that cannot wash with hot water , you can easily wash with hot water by using the hot water hose from the bath.

1. Place a bucket under the faucet and collect hot water while sucking it up with the hot water hose.
2. Select normal wash cycle, wash for a few minutes, then press pause.
3. After leaving it for about 2 to 3 hours, restart operation and perform dehydration.
*Please set the water level to a high level and rinse at least twice.
*Please do not use leftover hot water from the bath.
Regular price
Sale price
¥2,500
Unit price
per
Sale
Sold out
View full details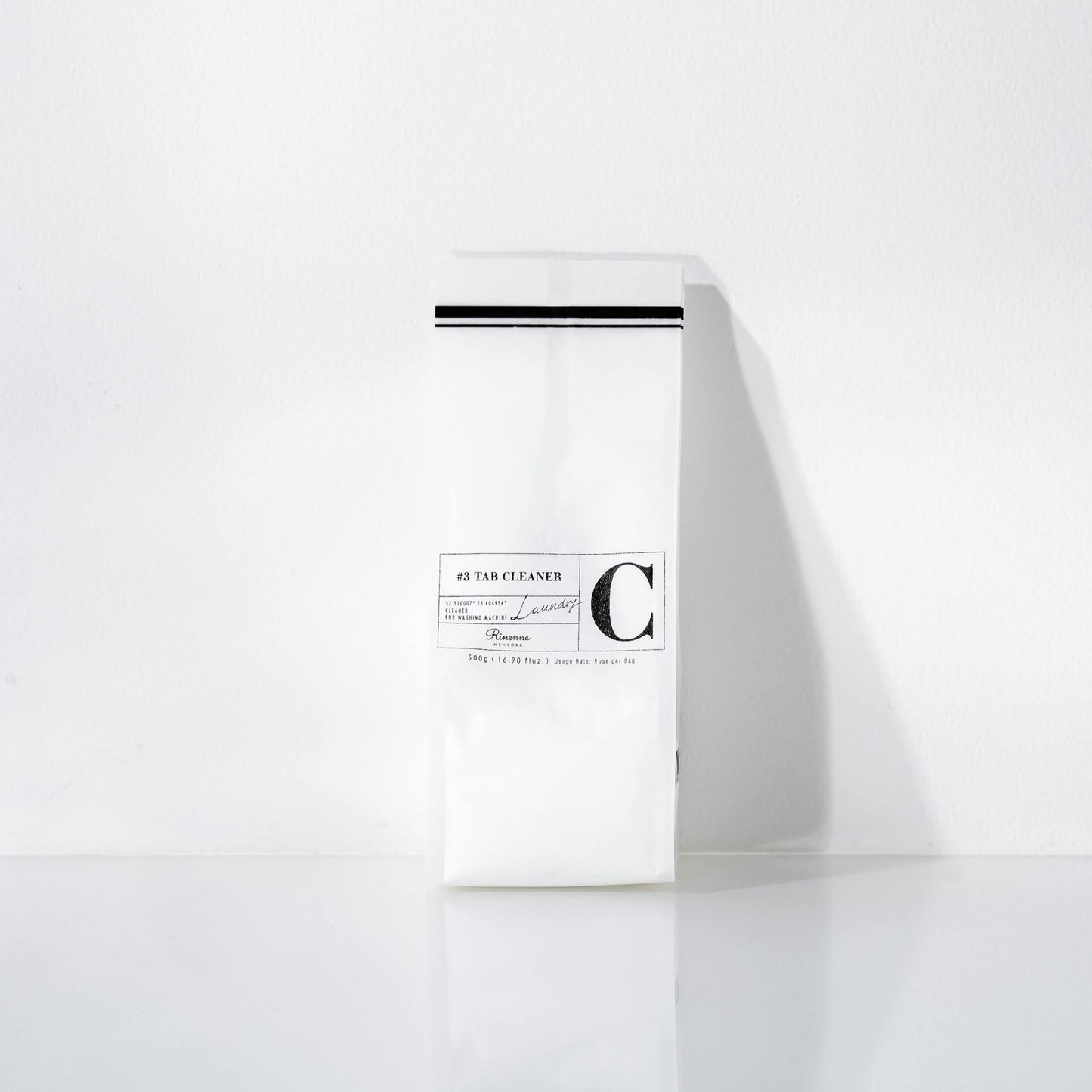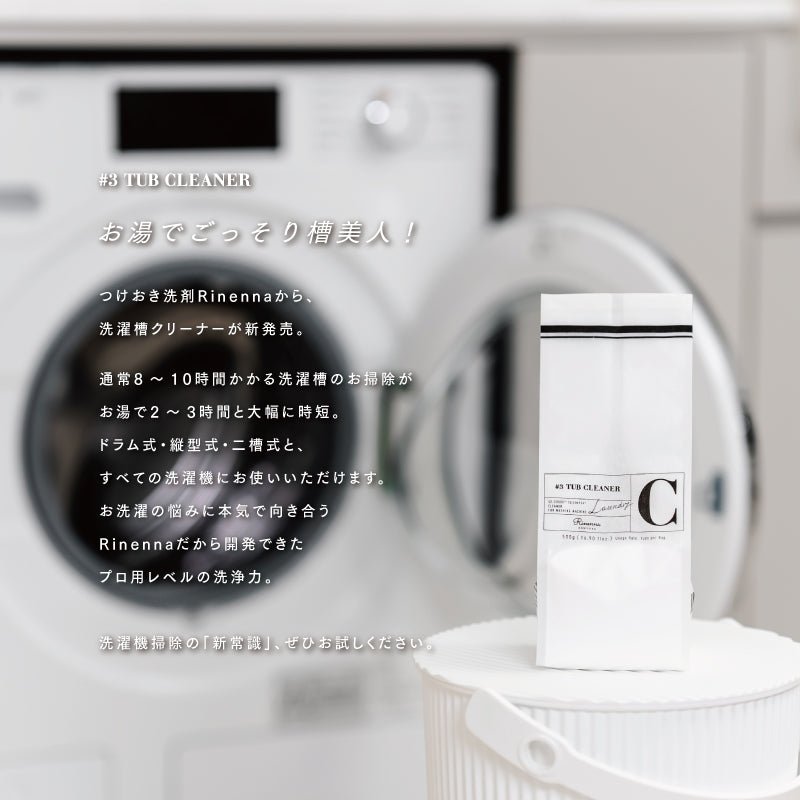 YouTubeでみました
YouTubeでみて、あれだけ汚れが取れるならと購入しました。お湯でやったのですが、すごかったですwクセになりそう。
この度はRinennaの商品をご購入いただき、誠にありがとうございます。
商品の効果をご実感いただく事が出来、大変嬉しく存じます。
Rinennaは普段の洗濯では落としきれない汚れに働きかけ、カラダから出る汚れにフォーカスした洗剤ですので、ぜひ色々とお試しいただけますと幸いでございます。
今後ともRinennaをどうぞよろしくお願い申し上げます。
いつもお世話になっている方へのプレゼントに
いつも市販の洗濯槽クリーナーを使用している私が使ってみて、ビックリする程の効果があったので、普段お世話になっている方へのプレゼントとして購入しました!洗剤も使ってみて欲しかったので、トライアル付きで嬉しいセットでした♪
いつもRinennaをご愛顧くださり、誠にありがとうございます。
また、この度は弊社の商品を大切なギフトへとお選びくださり、心より感謝申し上げます。
プレゼントされる方にもお喜びいただけますと、大変光栄に存じます。
これからもスタッフ一同一丸となって、お客様により良いサービスをご提供出来るよう、努めてまいります。
今後ともRinennaをご愛顧いただけましたら幸いでございます。
どうぞよろしくお願い申し上げます。
プレセントでいただきました
以前、お友達からプレゼントでいただきました。洗濯槽掃除をした方がいいということも最近知ったぐらいのズボラな私ですが、実際使ってみてびっくり!!こんなにも汚れていたなんて!!と衝撃でした。洗濯槽クリーナーって時間がかかるイメージでしたが、お湯を使えば3時間ほどで終わるのもうれしいです。
このたびは弊社の商品をご購入いただきまして、誠にありがとうございます。
商品の効果をご実感いただく事が出来、大変嬉しく存じます。
洗濯槽のお掃除は、月に1度をおすすめしております。
これからも定期的に洗濯槽のお掃除をしていただけますと幸いでございます。
今後ともRinennaをどうぞよろしくお願い申し上げます。
母へのプレゼントに
以前こちらの洗濯槽クリーナーを、実家に帰省の際に使ってみたら恐ろしいほどワカメ?が出ました。1ヶ月くらい前にカ○キラーの槽洗浄をしたと言っていたのですが、出方が半端なかったので、次もこのクリーナーを使った方がよさそうだったのでプレゼントしました。
いつもRinennaをご愛顧くださり、誠にありがとうございます。
商品の効果をご実感いただく事が出来、大変嬉しく存じます。
洗濯槽のお掃除は、月に1度をおすすめしております。
これからも定期的に洗濯槽のお掃除をしていただけますと幸いでございます。
今後ともRinennaをご愛顧いただけますよう、どうぞよろしくお願い申し上げます。
YOUTUBEで知って購入
お掃除ダイアリーを見て購入!洗濯槽クリーナーを早速使ってみて汚れにびっくりしました。月に一度は続けたいです。
このたびは弊社の商品をご購入いただきまして、誠にありがとうございます。
商品の効果をご実感いただく事が出来たようで、大変嬉しく存じます。
洗濯槽のお掃除は、月に1度をおすすめしております。
是非これからも定期的に洗濯槽のお掃除をしていただければと存じます。
今後ともRinennaをご愛顧いただけましたら幸いでございます。
どうぞよろしくお願い申し上げます。
Collapsible content
Product contents

Rinenna#3 Washing tub cleaner 500 g 1 bag
Rinenna #1 Trial Pack 20g x 2 bags
Product information

■Laundry detergent Rinenna#1 Mandarin Citrus Product information
・Manufacturer Japan
・Product name Synthetic detergent for laundry
・Applications: cotton, linen, synthetic fibers
・Liquid: Weakly alkaline
·component
Surfactant (19% polyoxyalkylene alkyl ether, sodium alphoolefin sulfonate, sodium linear alkylbenzene sulfonate), phosphate, silicate, bleach (oxygen-based), anti-refouling agent, enzyme, bleach activation agents, fragrances
・Standard usage amount: 30g for 30L of water
・Estimated usage amount
...Soak: 20g (2 spoons) in 2L of 40℃ hot water (approximately 50 servings with this product)
...Washing machine: 1 spoonful in 30L of water (approximately 33 times with this product)

■Washing tub cleaner Rinenna#3 TUB CLEANER
・Manufacturer Japan
・Product name: Washing tub cleaner
・Application: Washing tank cleaning agent
・Liquid alkaline
・Washing machine Fully automatic washing machine, two-tub washing machine
·component
Sodium percarbonate (oxygen), alkaline agent (carbonate), dispersant (phosphate), chelating agent, bleach activator, surfactant (polyoxyalkylene alkyl ether, etc.)
・Standard usage amount
500g of this product (1 serving/use up) for the maximum amount of water in the washing machine
Precautions for use

■Laundry detergent Rinenna #1 Mandarin Citrus Precautions for use
・Please wash according to the washing instructions on the clothing.
・Can also be used for baby clothes.
- Be careful of infants and young children playing with soap bubbles and mischief, and keep out of reach of children.
・If you are prone to rough skin or will be using the product for a long time, please use cooking gloves when washing with detergent applied to the brush.
After use, we recommend washing your hands thoroughly with water and using cream etc.
・If swallowed, please take measures such as giving water to drink.
・This product contains bleach (oxygen-based).
・Stains caused by chemicals such as dyes will not come off.
・Cannot be used on silk fabrics. Also, due to the characteristics of the material, wool may shrink if soaked, so please be careful when using it.
・If you leave it on for more than 24 hours, there is a risk of damaging the fabric or re-contaminating it. (We recommend leaving it on for 12 hours or less.)
・For items such as denim that have not been dyed properly into the fibers (clothing with low fastness), there is a risk that the color will fade if left soaked. For clothing that is concerned about color fading, be sure to apply detergent solution to an inconspicuous area before soaking, leave it on for about 5 minutes, and do not use on clothing that will discolor or fade.
・Please note that if you soak clothes that have previously been washed with bleach, the dye may peel off from the damaged fibers and the color may fade.
・Do not use for purposes other than those listed above.

■Washing tub cleaner Rinenna#3 Precautions when using TUB CLEANER
・Do not use with clothes inside.
・If it is the first time you are using it or if it is very dirty, it may not be removed in one use and the dirt may continue to appear. In that case, please use the washing tub cleaner Rinenna#3 TUB CLEANER again.
・Do not use leftover water from a bath using bath salts.
・Once opened, it will absorb moisture, so be sure to use it all at once.
・Please refer to the instruction manual as the usage may differ depending on the model of washing machine.
・If bubbles are about to blow, stop immediately and drain the water.
・If the drain port is tied, bubbles may come out from the drain port, so we recommend cleaning the drain port.
・Please do not use it for purposes other than its intended purpose.
・Do not use or mix with chlorine or reducing bleach.
・Do not store dissolved in water in an airtight container. There is a risk of pressure rising and bursting.
・Do not use in boiling water.
・Wash your hands thoroughly after use.
・Avoid direct sunlight and do not place it in a high temperature place.